Transporting Your eBike – Quickly and Safely!
For most folks, they ride their electric bike out of their garage and back again, but to get the most out of your eBike, you might want to go further, taking it along on vacation or seeking out destinations that are a bit further than the typical battery range. So, the question is, how do you transport your electric bike safely and securely?
There are a few key considerations to make when determining how to transport your eBike:
Your vehicle type and capabilities
Bike rack types and limitations
Frame Shape
Tire size
Bike Weights
Vehicle Type
Let's start with your vehicle! If you've got a minivan (with the seats removed) or a pickup truck, you should have no problem getting your bike from point A to point B without any additional purchase or equipment. You'll want to make sure your bike is stable and secured—bouncing around during transport could lead to damaged handlebar grips, or worse.
If you're working with a standard sedan or hatchback, getting a bike in will be a bit of a challenge. Electric bikes are typically much heavier than a standard bike, so wrestling with a full-size eBike in a space that's not meant for it can be an unpleasant experience. If you've got a smaller vehicle and are thinking about doing a lot of traveling with your electric bike, a folding bike like the CVRT fat tire electric bike might be a great option for you.
For any vehicle, a strap-on rear rack might do the trick. Or better yet, if you've got a receiver hitch installed, a hitch mount rack is one of the best options. In the case of a receiver hitch, you'll want to know your maximum tongue weight before investigating your options.
Tire Size
For any wheel mount rack or truck bed rack, you'll want to note the tire size compatibility when transporting your ebike. With the growing popularity of electric fat tire bikes, many rack manufacturers have begun to make wheel mount racks that accommodate the larger 4" wide tires, but not all. So, if you're going to be transporting a fat bike like our CNQR, be sure the rack can accommodate.
Bike Weights
For all styles of bike rack, look for the stated weight limits. Hitch racks will usually accommodate the greatest weights. Also keep in mind that your ebike battery is both heavy AND removable. The batteries on TUOTEG ebikes range from 9-13 lb, so if you're right on the edge of your vehicle tongue or hitch rack's weight limit, removing the battery might just do the trick.
Rack Type
Roof Racks
Don't do it! Roof racks typically mount to factory or aftermarket load bars, and while they're great for many applications, eBikes are not one of them. Lifting an electric bike to the car top is a lot to ask of your back muscles and will probably lead to back injury if you're not careful. But more importantly, roof rack bike trays are not equipped to handle the eBike weight either—most have a weight limit of 40-45 lb.
Strap-On Racks
These racks use a system of straps to attach to a vehicle's trunk or hatch. They're great because they have a nearly universal fit onto any vehicle, but again, weight is a key consideration here: many are not rated to handle the 60+ lb weight of an electric bike.
Hitch Mount Racks
These are probably the most popular and widely used options of racks for transporting your eBike. There are lots of options that can accommodate bike weights of 55+ pounds, and receiver hitches are more and more common on modern vehicles. One important note here is to know which size receiver hitch you've got: 1-1/4" or 2" wide. Some receiver hitch mount racks work with both, but you don't want to end up with the wrong one!
Wheel Mount vs Frame Mount
Both strap-on and hitch style racks come in two main varieties: wheel mount or frame mount. Frame mount racks typically hold the bike by supporting it under the top tube. This requires the top tube to be relatively straight and big enough so the rack supports can fit in the front triangle of the frame. On bikes with unconventional frames, like our step-through CRZR hybrid cruiser electric bike, there isn't a top tube to use, so an additional accessory, like the Delta Crossbar Substitute will be necessary to secure the bike.
Wheel mount racks have trays that support the bike wheels, with a center pole to secure to the frame. These have the most universal fitments, as the frame style is less of a factor.
Truck Bed Racks
While you could technically just put your bike in the back of your truck bed, a dedicated rack will allow you to transport a greater number of electric bikes more securely. These usually attach to the truck just behind the cab, or along the sides of the bed.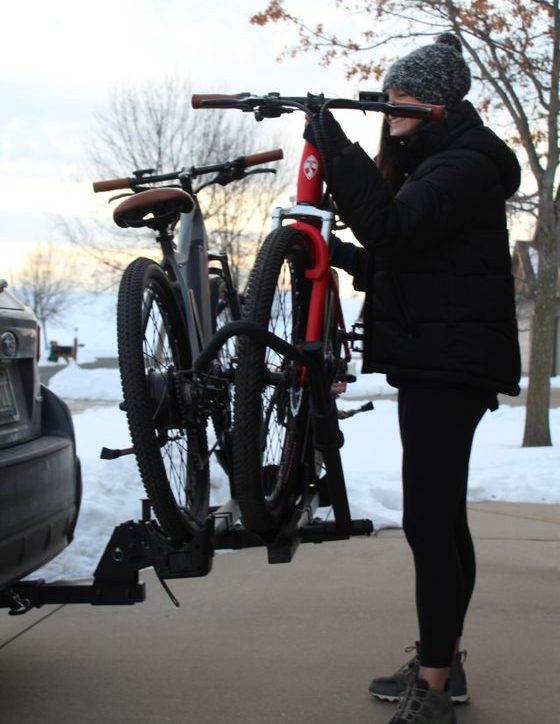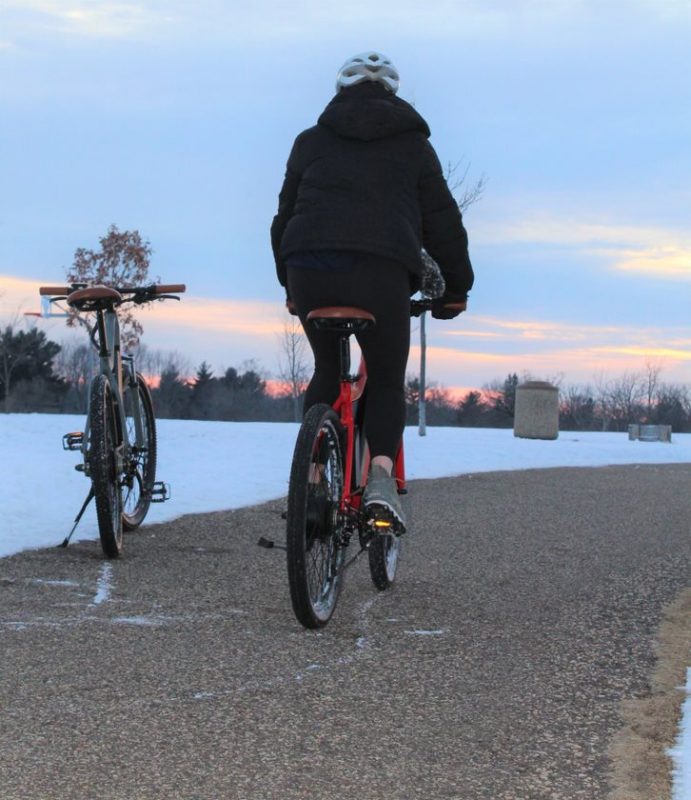 In Summary
Transporting your eBike greatly increases your potential enjoyment and broadens the places you can ride, so long as you get the right rack for your electric bike's frame style, weight, and tire width that matches your vehicle's hauling capabilities. Have fun out there!